Grade 10-12 Course Selections 2020-2021
Grade 10-12 Course Booklet 2020-2021
---
Friday 21 February 2020
REMINDER:
The Gr 10 -12 course selection window CLOSES Midnight Sunday 23 February 2020.
Here are the instructions (linked below) that were explained at the assemblies on Wednesday 12 February 2020:
Questions? See your Counselor of Record:
Ms. Handy

A – GH

Mr. Taft

GI – N

Ms. Ellis

O – Z
---
Friday 14 February 2020
Please note the following opportunity scheduled for Focus Block this coming Wednesday 19 Feb:
Event: Student Course Selection Support
Time: Focus Block
Location: LLC
Target Audience: Gr 9 – 11s who need help with course selections in advance of the Sun 23rd deadline.
Hosted by: Counselling Team
---
Wednesday 12 February 2020
The course selection window in the MyEd Student Portals are CLOSED.
Here are the instructions (linked below) that were explained and modeled live and in-person at today's assemblies:
Questions? See your Counselor of Record:
Ms. Handy

A – GH

Mr. Taft

GI – N

Ms. Ellis

O – Z
---
Monday 10 February 2020
Course Selection Assemblies
Please click on image to enlarge: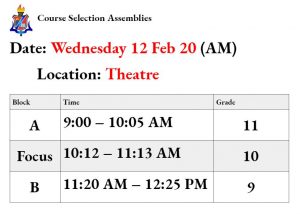 ---