English Language Arts Pathways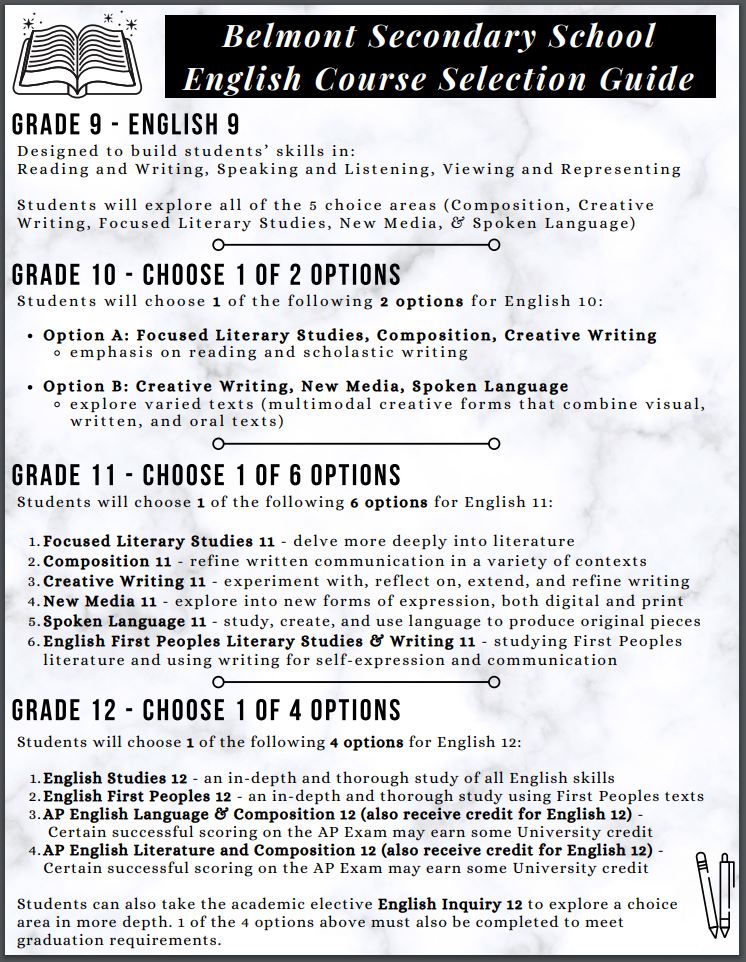 ---
English Department FAQs
What are the options for English 9 students?
All grade 9 students are enrolled in the same English Language Arts 9 Course.
What are the options for English 10 students?
Grade 10 students have the choice between the Creative Writing or Literary Studies courses. Each course also has components of New Media, Composition, and Spoken Language as well. 
What are the options at English 11 Students?
In grade 11, the courses are divided again into individual options: Creative Writing, Literary Studies, Composition, New Media, and Spoken Language. Students must select one of these options
Which English option is the "easiest"?
This depends on your personal preferences.

Each course requires students to look at all aspects of English Language Arts

. The main difference will be the materials covered. A student who takes Spoken Language, for example, should still expect to work on formal writing, but more of the content could focus on things like spoken word, class discussion, or speech analysis. As a result, the "easiest" path will be to focus on the area which interests you.
Which English pathway is "best" for students enrolling in post secondary?
All options give credit, and develop the necessary skills to be successful. Post secondary institutions and universities will accept all options with equal merit.
What are the differences between the pathways?
Creative Writing

provides opportunities to become a better writer through the exploration of various literary genres.

New Media

explores new forms of expression and the role technology has in communicating and exchanging ideas.
Composition

refines skills in written communication through a variety of contexts.
Spoken Language

provides opportunities for students to individually and collaboratively study, create, and use language to produce original pieces in a variety of modes.
Focused Literary Studies

allows students to delve more deeply into literature of various eras and cultures.
Do I have to take a specific pathway in grade 10 to enrol in one of the grade 11 options?
There are no prerequisites for choosing a specific English course in grade 11, other than completing one of the English 10 options. Either pathway in grade 10 allows you to take any of the grade 11 courses.
What are the options at grade 12?
All grade 12 students must receive credit for English Studies 12. There are four options to achieve this: English Studies 12, English Language and Composition 12 AP, English Literature and Composition 12 AP, and English First Peoples 12.
Are there any English 12 Elective courses, and do they grant the required English Studies Credit?
Based on enrollment, English 12 Inquiry is offered as an elective. This does not grant English Studies 12 credit. In order to fulfill graduation requirements, one of the grade 12 options would need to be taken in addition to English 12 Inquiry.