14 December 2022
Dear Belmont Families,
Please note the following updates regarding the upcoming Graduation Assessments:
During this assessment cycle, Belmont will focus on:

Gr 10s who require Literacy 10 to complete their graduation requirements;
Gr 12 French Immersion students for Literacy 12 in French; and
Gr 12s who missed their scheduled assessment session in November 2022.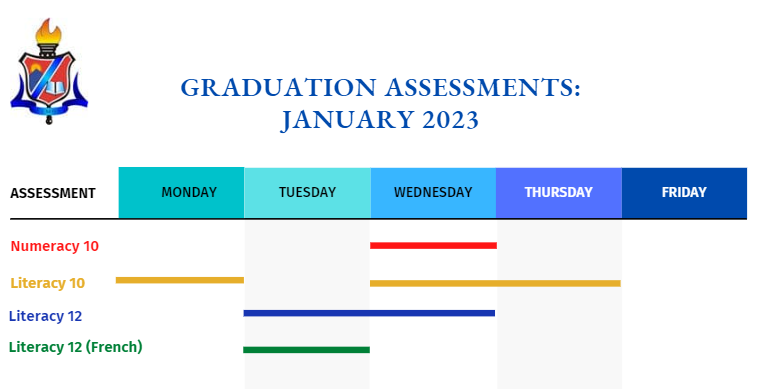 The January Graduation Assessments will run Monday 23rd – Thursday 26th January 2023.
Our Grade 12 French Immersion students will complete the oral component of their Literacy 12 (French) Assessment during the week of Monday 16th – Friday 20th January 2023, during their class time.
Registered students will be contacted via email on their sd62learns.org account.
Provincial Resources:
Grade 12: Literacy Assessment and Literacy (French) Assessment
Any questions can be directed to your student's classroom teacher and we look forward to our assessment week.
With thanks,
Team Belmont
---
20 October 2022
Hello Belmont Families,
We are prepared for our November 2022 Graduation Assessments and wish to share the following:
Assessment dates:

Monday 31st October – Friday 4th November 2022
Assessment Schedule:
Careers 12 and Math 10 students will be advised by their classroom teams.
November 2022 Registrants:

All students in Semester 1, Math 10 and Careers 12 classes are registered; and
Results will be released:

Directly to students through the StudentTrancriptService;
Using their BCeID account; and
On Monday 9th January 2023.
All Semester 1 English 10 and French 12 classes will complete their Literacy 10 and 12 Assessments in January 2023.