The latest edition of the Belmont Bulletin has now been published. Please check it out on the link below.
All students are to complete the daily health check before arriving to school. For Attendance, please email or call our office if your child is going to be late for school, will be leaving school early, or will be away for the day. Students should also email their teachers to ensure they are aware of any missed work.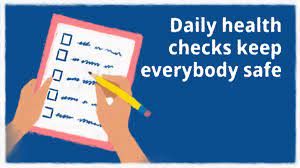 SD62 schools are closed today, Thursday January 6, 2022, because of snow and poor road conditions.
Belmont Wear and Grad Hoodies are on sale now!
Belmont sweatpants, t-shirts, hoodies and grad hoodies are on sale now for a limited time! Sales are online-only. Visit bit.ly/belmontstyle for all the details! Brought to you by Belmont's Entrepreneurship 12 class. Act quick as sales end December 9th! You can also scan this QR code below.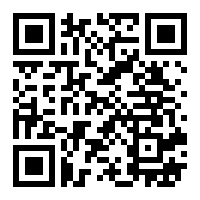 Dear Belmont Families,
This year, we are moving to a new online booking calendar for our Learning Conferences. We will be using MS Bookings. Beginning on Wednesday, November 10, 2021 at 10:00 am we will be opening our booking system for the virtual parent-teacher interviews until Wednesday, November 17th at 12:00 pm. Interviews will be held on Thursday, November 18th online through MS Teams from 2:00 pm to 4:00 pm & 5:00 pm to 7:00pm. If you prefer a phone call to online, please contact your child's teacher.
To book an appointment, please go to link provided below. Detailed instructions on how to use MS Bookings are included in a separate attachment. https://outlook.office365.com/owa/calendar/BelmontSecondarySchool@sd62.bc.ca/bookings/
If you are unable to book online, please call our front office at 250-478-5501 beginning Friday, November 12, 2021 after 10.00 am. If you are unable to book an appointment with a teacher due to availability, or if there is a unique reason that makes it necessary for a parent to meet face to face with a teacher, please contact the teacher to set an alternate time. Teacher contacts can be found here.
The schedule for Thursday, November 18th is as follows:
Block B – 9:00-9:40
Block A – 9:45-10:25
Break – 10:25-10:40
Block D – 10:40-11:20
Block C – 11:25-12:05
Conferences 2-4pm & 5-7pm
Thank you for taking the time to meet with your child and their teachers.
Education PlannerBC Parent Info Evening:
Parent virtual info evening put on by EducationPlannerBC on Tuesday November 16th, from 7-8:30PM. Please see attached link below for registration.
https://sfu.zoom.us/meeting/register/u5Yud-2ppjojG9eyWySWClS10SI7GD6EBo8q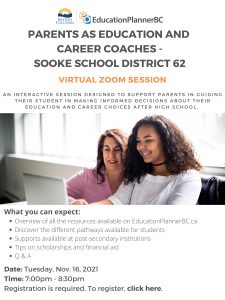 Please consider donating nonperishable items or cash donations for the Goldstream Food Bank. If you would like to donate cash, please use the links below. A tax receipt will be issued to you. Thank you!