The latest edition of the Belmont Bulletin has now been published. Please check it out on the link below.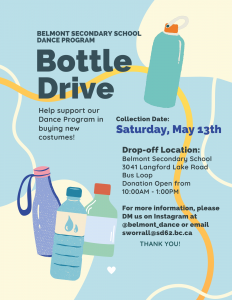 We have just been informed that the pathway that runs beside Goudy Field will be closed from 9am tomorrow until Friday morning. Please note:
Students are encouraged to continue to take the city or school bus, walk or ride their bikes to school. Parking is extremely limited.
Students who take the city bus to school will access the school from the sidewalk along Langford Parkway. We have been informed that the bus stop has been moved to make this easier and that signage will be posted.
Climbing Academy students will access the BoulderHouse through the stadium parking lot off Glen Lake Road. The gate from the stadium will be open. If they have any questions about how to do, this, please have them come to the office for help.
Students who park on Langford Parkway will be able to access the school following the sidewalk that runs on the west side of Goudy Field.
We apologize for any inconvenience. The City of Langford needs to close this pathway to ensure pedestrian safety while electrical work is completed.