Dual Credit, Trades and Training Information  
Career Centre – Room A117 and Room A 119
Email:  belmontcareercentre@sd62.bc.ca
Career Advisor : Ms. K. Arkell  – Dual Credit Courses
Career Advisor :  Mrs. J. Robertson – Youth Train in Trades, TASK, WEX 12
Career Coordinator : Mrs. C. Bodman
Career Centre Services include:
The Career Centre provides assistance to students wishing to pursue training and experience in advanced trades and career training.
South Island Partnership – Dual Credit and Trades Training
Skilled Trades BC (Apprenticeship Training)
Trades Awareness Skills Knowledge – Auto TASK at Belmont (Fall 2023 Semester 1),  Construction TASK at Royal Bay Secondary School / Metal TASK at Edward Milne Community School
Automotive TASK – NEW to Belmont Fall 2023
Applications can be picked up in the Careers Office, Room A 119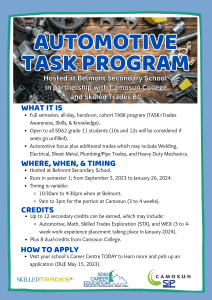 Volunteer and Job Opportunities
Job postings can be found on the Grade 10, 11 or 12 Google Classrooms.  You can also visit us in the Career Centre, Room A 117 or A 119.