Good afternoon students and families.
The information below is intended to help students and staff with the school start-up. We look forward to a great year ahead!  A reminder our Bistro & Café are closed until further notice due to renovations. Please bring a lunch and snacks as needed.
September 4th –  Grade 9 Students only
Grade 9 students are to meet in the large gym at 9am
Students are asked to find their name alphabetically on the lists provided in the gym (there are 5 copies posted) and see who their block A teacher is. Once done, students are asked to be seated in the bleachers.
At 9:15am we will begin our welcoming assembly for grade 9s introducing them to our staff and reviewing the first week of school.
Students will then meet with their block A teacher and be lead to their first class.  Schedules, lockers, etc. will be handed out and students will get a chance to find their locker, try it out, then return to their block A class.
They will then proceed through a mini block rotation moving to their block B, C, and then D classes.
Students will be dismissed at 11:45am for the day.
September 5th  – All grades
All students are to report to their block A class as stated on their schedule.  Although it is a Wednesday, we will be following a regular class (M,T,Th) schedule.
Blocks ABCD (day 1 for linear classes such as Band)
September 6th – All grades
Blocks ABCD (day 2 for linear classes)
September 7th – All grades
Blocks ABCD
Early Friday schedule
Pep Rally at 1pm
September 10th – 14th
Back to the regular daily schedule including block rotations
PAC meeting September 11th 7pm
School Photos on September 12th (all day)
TIME TABLE INFORMATION
Every effort has been made to accommodate your course preferences. If your schedule does not reflect some of your first choices, this may be because:
The course is not offered or the course is full.
It is a 'singleton' course and is in conflict with another course.
Your particular program (Sports Academy/AVID/Dance/French Immersion) blocks your elective request.
BE SURE TO FOLLOW THIS SCHEDULE.
Students missing a class on their schedule or with a "XAT see counsellor" block should bring their schedule to the counselling suite during THAT BLOCK.
Students who wish to request a course change must follow these steps:
Pick up a "Course Change Request Form" from Mrs. Hyde in the counselling suite, during NON-CLASS TIME.
Present the COMPLETED form to Mrs. Hyde, in the counselling suite, DURING NON-CLASS TIME to be time stamped.
Students must follow their current schedule until they get called by their counsellor.
Students will be called from their class.
Schedules in our computer system will be updated immediately if a change is made.
Students who are not in class when called by their counsellor may lose their opportunity to discuss their desired changes.
There is VERY limited room to make changes to first semester courses.
All completed course change request forms must be submitted to Mrs. Hyde in the counselling suite by 2:30pm Friday September 7th, 2018.
Students are assigned to counsellors by last name as follows:
                                    A – D         Natalie Handy                                nhandy@sd62.bc.ca
                                    E – L           Dan Taft                                               dtaft@sd62.bc.ca
                                    M – Ro      Lisa Ellis                                               lellis@sd62.bc.ca
                                    Ru – Z       Hilde Plotnikoff                            hplotnikoff@sd62.bc.ca
Below is an update on our portables and cafeteria renovations…
Please check the documents below (Belmont School Start Up 2018) for information regarding our school start up.  School begins on September 4th with Grade 9s only as in years past.  All grades are in attendance on September 5th for a full school day.
Students in Grade 9 will receive their class schedule on September 4th.  Grade 10-12 students will receive their schedules via mail in addition to the info below.
Our wonderful new school opened in September 2015.  The original building, which has been demolished to open up more space in our community, opened in 1947.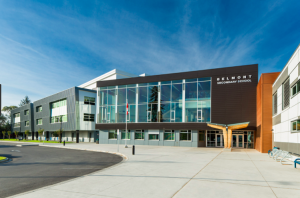 The Library/Learning Commons is a beautiful multi use space with a view of Langford Lake.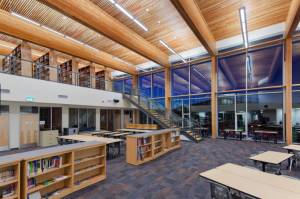 The hallways and common spaces are spacious and open with an abundance of natural light.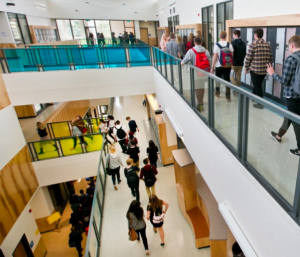 The gymnasium is the largest in the province of BC!