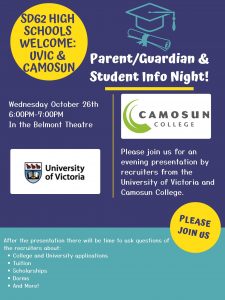 Incoming Grade 9s:
Present Gr 10-12:
SD62 schools are closed today, Thursday January 6, 2022, because of snow and poor road conditions.
Belmont Wear and Grad Hoodies are on sale now!
Belmont sweatpants, t-shirts, hoodies and grad hoodies are on sale now for a limited time! Sales are online-only. Visit bit.ly/belmontstyle for all the details! Brought to you by Belmont's Entrepreneurship 12 class. Act quick as sales end December 9th! You can also scan this QR code below.